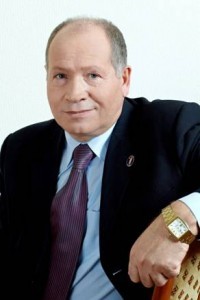 Ivan Semenovich was born on December 1, 1949 in the village Timchenko of the Nedrigaylovsky district of Sumy region. After graduating from the eight-year school in 1964, he joined the paramedic department of the Lebedin Medical School. In 1968 he was drafted into the ranks of the Soviet Army and served in the health battalion of the Soviet Army Group in Germany. Upon graduation from military service in 1970 he entered the Kharkov Pharmaceutical University, graduating with honors in 1975. During his studies at the university he actively worked in the student scientific society under the guidance of Associate Professor of the Department of Organic Chemistry V.P. Chernykh. From 1975 to 1982 he worked as the head of the Central district pharmacy №9 in the village of Pysarivka, Sumy region.
In 1982, Ivan Semenovich enrolled in full-time postgraduate studies at the Department of Organic Chemistry at Kharkov Pharmaceutical Institute. In 1985 he successfully defended his dissertation for the degree of Candidate of Pharmaceutical Sciences on the topic "Synthesis, physicochemical researches and biological activity of derivatives of succinic acid succinic hydrazides" (scientific supervisor – Prof. Chernykh V.P.). He worked first as an assistant, then as an assistant professor in the department of organic chemistry.
In 1992 Grytsenko I.S. defended his doctoral dissertation on the topic "Synthesis, Transformations and Biological Activity of Derivatives of Arensulfonic Acids" for the degree of Doctor of Chemical Sciences, and in 1993 he was awarded the academic title of professor. Since 1992 he has been working as a professor of the Department of Organic Chemistry, since 2002 – Vice-Rector for Scientific Work, since 2004 – Head of the Department of Medical Chemistry, from June 2005 to August 2014 – First Vice-Rector of NUPh, from August 2014 from June 2016 to June 2016 – Head of the Department of Medical Chemistry, from June 2016 to the present – Head of the Department of Analytical Chemistry.